"It seems to me that in the early 2000s, Ginuwine hadn't come out with a fire album in 2 or 3 years..." -Steve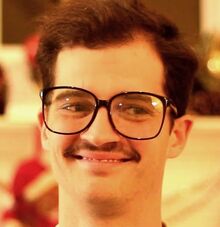 Basic info of Steve
Edit
Association with characters
Edit
Steve has no interaction with Jake but likely knows of him.
Steve helps Jake's dad by distracting Uncle Samsonite and allowing Jake's Dad to rescue Jake.
Steve could be considered Uncle Samsonite's nemesis, as he has rescued 2 characters from him.
Steve is considered to be Isaac's friend, as he rescued him before the "Transformation" was complete.
Other Characters
Edit
Ginuwine

Steve is a big fan of Ginuwine, as expressed by him being the president of the third largest Ginuwine Fan Club in Ohio, and also the fact that he showed concern after Ginuwine hadn't come out with a fire album for 2 or 3 years during the early 2000s, which led to him looking for why, and it wasn't long before he stumbled into Uncle Samsonite's realm
He was the president of the fourth largest Ginuwine Fan Club, but the members all died in a "tragic house fire accident."

It is implied that it was not an accident.
Community content is available under
CC-BY-SA
unless otherwise noted.